Marketing Apps and Software Tools for Business Owners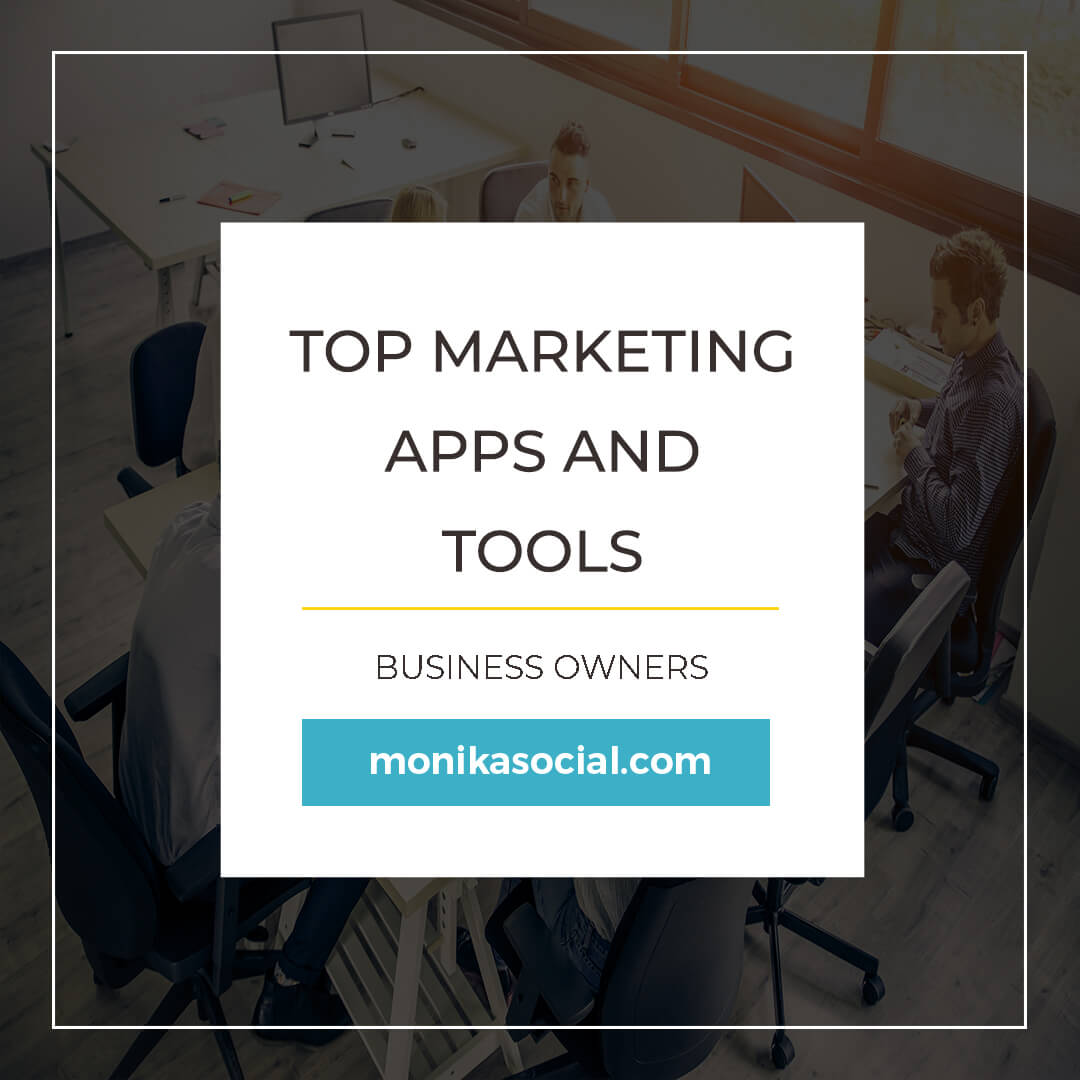 June 13, 2018
Marketing Apps and Software Tools for Business Owners
There is SO MUCH out there right now for marketing software, but there are things to consider before you start downloading, purchasing or learning to use the software:
How much do you want to spend?  How much do you know? How much time do you want to spend learning what you don't know? And what kind of marketing software do you need?
I have broken down some of the essential software below to help you and your marketing strategy create its full impact in regards to its Visuals, Planning and Project Management, and Copy (whether it be for social media, advertising, blogs or other website copy).
Visuals
Adobe
Highly regarded. And why not? You can do an endless amount of things (Photoshop, Illustrator, InDesign, Dreamweaver, Acrobat, Flash Builder, Animate, etc.)

Drawback: Adobe creative suite is not free, and you must sign a contract for a year or two's worth of use. It also takes time to learn. But let's turn that negative into a positive; if you do take the time to learn Adobe Creative Suite, then you will have a very handy and useful tool on your belt.
If you're looking for something in the price range of $0.00 to free, then there are options, of course.  But as with any software, if it's free, you can assume you can do less/have access to fewer features.
Free Image Editing:
Photoshop Express
very basic, comparable to what Instagram can do to your images
Canva
also has great options for stock photos, and more become available if you pay

easy to use and you can make social media graphics, website banners, event invites ect..
GIMP
considered one of the most feature-packed free editors
Paint.NET
Not to be confused with Microsoft Paint
Free Video Editing:
iMovie
Free with MAC iOS, can create high quality videos

Cannot import videos or photos from non-iOS devices
Windows Movie Maker
Free with Windows, good for slideshows and simple video presentations

Not as many features as iMac and has a history of crashing
Lightworks
Can produce up to 1080p videos and considered one of the best free options for Windows and MAC

If you like it enough, you can pay for a subscription and get more features ($25/mo.)
Boomerang for Instagram (not really an editing tool, but one you should consider for fun, often humorous social media posts)
Takes a burst shot of 10 photos and creates a "mini video"

You can download the videos and share them across other platforms
Scheduling and Planning
For scheduling and planning your social media posts, there are many tools out there which allow you to post and pre-schedule posts across different channels.  These apps and software generally have a free version and a pay version, and the biggest difference between those are in the analytics and reporting capabilities of the app.
Buffer
Sprout Social
Hootsuite
In terms of keeping track of anything else, consider these calendars and project management tools:
Google Suite
Google calendar is great if you or your business uses Gmail. Often what Google will do is take information from your emails and place it in your calendar for you. It also syncs with all your docs, slides and other Google apps.  Google suite is also free, and very simple to use.
Asana
This app takes project planning to another level, has a free option, and lets you add projects, clients, tasks within projects. You can also assign projects to other employees or team members within the projects. It's great if you have your whole team on board, using it regularly.
Microsoft Project
This software is a bit more in-depth and not free (starts at 8.50/month)

on top of creating projects, setting timelines and assigning tasks, it can also incorporate a budget that allows you to specify your resources (people, equipment and materials) and figure out project costs
Depending on the size of your business, and the scope of your marketing projects, you may only need social media management software, only project management software, or both.  Either way, these software and apps allow you to schedule, plan and organize your marketing materials while also allowing you to share them with team members, clients and to keep your marketing strategy (or budget) on track.
Copy
I encourage you to first type your copy into either
Microsoft Word or
Google Docs
Provide editing tools with which you can revise and share so team members can also revise it, leave comments on it and send it back.
 Overall, the software you use will depend on the goals and different aspects of your marketing strategy, the size of your business, and how much you want to spend.  A good thing to remember is that a lot of the software out there offers a limited free version which you can use as a trial.  Once your business starts to grow and your marketing takes off, consider each company's pay version.
Written by Monika
---
Share!
< Prev
"I've been following Monika for a while on Instagram and had the opportunity to attend a social media workshop and I'm so glad I did! It was great to get feedback from a pro and have validation that our direction is a good one! Left feeling very encouraged and excited to try new techniques! Thanks so much Monika!"
- Dianna Yasmin Mesaros